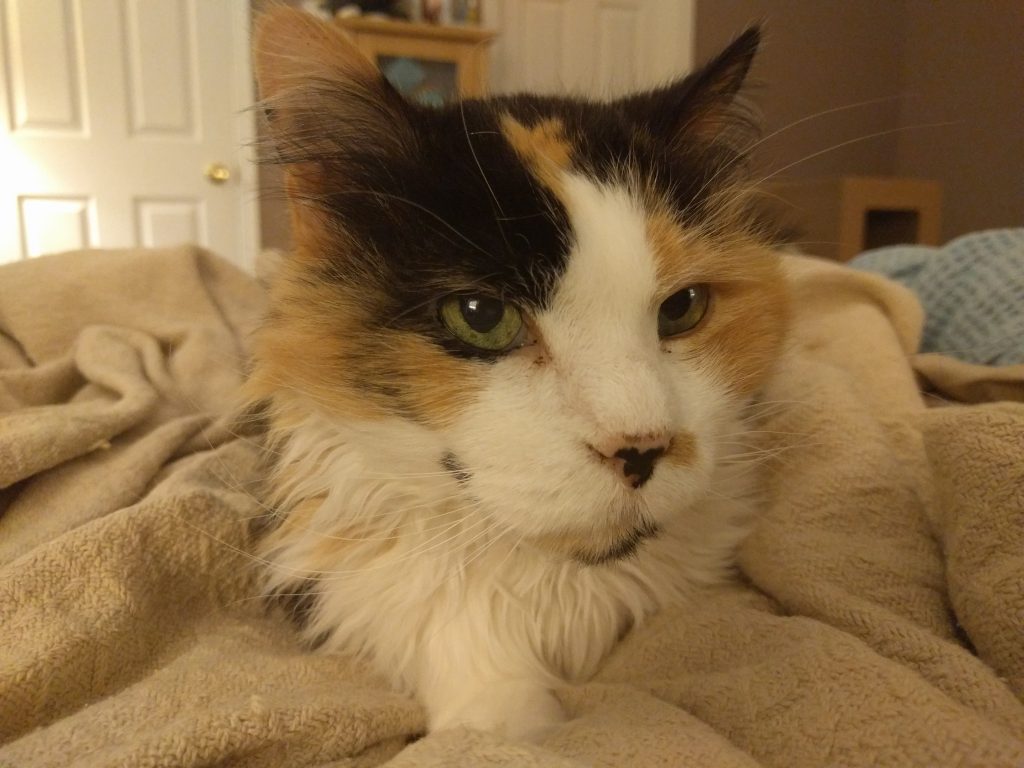 Sixteen years is long enough, surely, to get to know a cat.
Nope.
Amelia had always been her mother's child. She had father and sister too, but LaZorra was the one Mellie always cuddled up to and followed around. Humans were of dubious purpose, save for our feet: from the scent we trod back home Mellie seemed to learn all she needed of the outside world.
Her father, Erasmus, left us several years ago; while Mellie's sister mourned, I'm not sure Rasi's absence made much of an impression on our clown princess — after all, LaZorra remained, to provide orders and guidance and a mattress.
Where Zorri went, Mellie followed — and thus a cat who had little use for humans slept on our bed anyway.
Recently, we lost both LaZorra and Sophia, and we were afraid: afraid that Amelia's world would close in on her. We were afraid that she would become a lost cat, waiting alone for comfort that would never return.
The first couple days after LaZorra's passing seemed to bear our fears out. Amelia kept to her routine and food, but was isolated. Then, some things became evident.
Our bed was, in fact, hers. Hers to stretch out in, space for my legs be damned.
Our feet turned out not to suffice; our hands were required too. For that matter, for the first time in her life, she started letting us brush her.
And she enjoyed it!
Then she decided that we needed correction — so she began vocalizing, loudly and often.
And now we have a cat anew: talkative and demanding of our time and attention, confident in our love.
Sixteen years is not long enough to get to know a cat.

The blossoming of the Mellie-cat by Galen Charlton is licensed under a Creative Commons Attribution-ShareAlike 4.0 International License.