I had a great time at the Evergreen conference this year. Some of the highlights for me are:
I got to see a lot of friends, both old and new.
We started signing the fiscal sponsorship agreement (PDF) with the Software Freedom Conservancy. After the document crosses the country and back and gets the last few signatures, Evergreen will officially become the latest member project of the SFC.
We made great progress setting up for the project's move from SVN to Git. (If you're a developer, please weigh in now on the vote taking place on open-ils-dev.)
Every restaurant I ate at was good, without exception.
I learned how to play Munchkin.
My wife and I found a house to rent.
I even managed to get some sleep one night.
Many thanks to the conference committee for organizing a wonderful event. I'll close with this image from the presentation by Rogan Hamby and Shasta Brewer: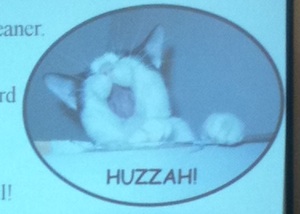 Evergreen Conference 2011 highlights by Galen Charlton is licensed under a Creative Commons Attribution-ShareAlike 4.0 International License.